Hey guys & gals
Welcome welcome to this week's edition of the MDB Mania
I recommend you guys checking out Fred's post underneath this column called "Can We Save Football?". He made alot of valid posts, so go check it out!
Yep its that time of the year- getting closer and closer to holiday shopping. Unlike years past- I've already started my shopping! Usually I'd wait until mid December to start, but NOPE not this time! It's good to get gifts earlier so that way all the money you spend on items, you'll be able to get all of that money back working at your job before Xmas time
Onto the sports field, or I guess for now just football since basketball and hockey are early in their seasons. Looking at the standings, there's a 5 team tie for the best record in the NFL with 6-2. Those teams are the New York Giants, Atlanta Falcons, New York Jets, Pittsburgh Steelers, New England Patriots and Baltimore Ravens. To be honest, a few weeks ago I thought the Giants were a pretender- but lately they've been picking up their game so for now I have to say that they are one of the teams to beat in the NFC, but that could always change. I think it comes down to the Ravens and Steelers in the AFC. I still think the Steelers will be the team to beat. I mean, yeah they lost to the Ravens earlier in the season but don't forget that they were 35 seconds away from beating the Ravens with CHARLIE BATCH in that game as their QB. Even though the Jets and Patriots have struggled a little in their last 1-2 games, they'll be down to the wire too. I wouldn't sleep on the Atlanta Falcons, as long as they play at home since they are a very good home team but weak road team
Pretty much a must win game this Monday night for the Skins Vs the Eagles! Hopefully with them coming off a bye week, they've had time to heal up any injuries & be able to focus away from the drama of McNabb being benched 2 weeks ago and move on from that. It's gonna be interesting to see how their matchup with Philly goes this time since the Redskins were the team who injured Mike Vick and beat them. With it being a Monday night game, it'll be on the big national stage- and hey the Skins aren't playing a mediocre team this time....so they have a better shot then playing vs the Lions & Rams sadly! lol. At least they play tough teams the rest of the season so maybe they will get their gear together and play more like a contender then a on again off again pretender
I'll get into the whole off the field problems with some NFL players these days. Ben Roethsliberger & Brett Favre, 2 QBs that I've always liked but in the last year have lost respect for. You guys know better then to do what you've done in a bar & through text messages. Lets hope these dudes know to play it safe for now on, I mean seriously! lol
You might of noticed that the blog went through a bit of a makeover since last week. I wanted to change the look of it and make it more professional looking and easier to navigate and read text on. I've heard good feedback on it so glad its a welcomed changed :) I also put our season standings & picks of the week on the right side of the page if you wanna check them out and follow them throughout the rest of the NFL season on here!
I'll give you my picks for the 4 selected games this week, & also from my bud Terri(picture below) with her picks and her thoughts: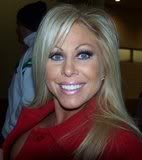 Baltimore Ravens(6-2) at Atlanta Falcons(6-2) -Thursday Night Football on NFL Network)
Mark's pick
: Falcons
Mark's opinion: This is gonna be a hard one to pick since they both share the same record, but Atlanta is a good home team and only has lost 1 game at home since Matt Ryan has been their QB. I think this game is going to go down to field goal kicking since each defense will make stops to cause alot of FGs
Terri's pick
: Falcons
Terri's opinion: Hmmmm...which bird do I want??? Going with my old hometown of ATL on this one!
Minnesota Vikings(3-5) at Chicago Bears(5-3) -FOX 1pm
Mark's pick
: Bears
Mark's opinion: Originally I was going to go with the Vikes, but I think all the distraction about the players hating their head coach Brad Childress is going to take a toll on the team & the Bears will take advantage of that, even with Jay Cutler's addiction to Interceptionitis lol
Terri's pick
: Bears
Terri's opinion: Da Bears! Still mad at my old favorite Brett Favre!!!
New England Patriots(6-2) at Pittsburgh Steelers(6-2) -Sunday Night Football on NBC)
Mark's pick
:
Mark's opinion: This is gonna be a challenge for both teams, but I think the Steelers have the momentum & are going to pull it off in a close one
Terri's pick
: Steelers
Philadelphia Eagles(5-3) at Washington Redskins(4-4) -Monday Night Football on ESPN)
Mark's pick
: Redskins
Mark's opinion: Yeah I know its a homer pick lol, but I'm nervous about this game since I know the Eagles and Vick are dangerous. For some reason, I get a vibe that the Skins are gonna control the temp
o
Terri's pick
: Eagles
Terri's opinion: Hate to do it to ya...but I am going with the birds on this one! But if Washington wins...I'll be happy for YOU!
One last thing before I go for this post. 2 weeks ago, I actually received an award from a company that supports the Department of Transportation office I work at for a Work Achievement award which was a nice feeling :)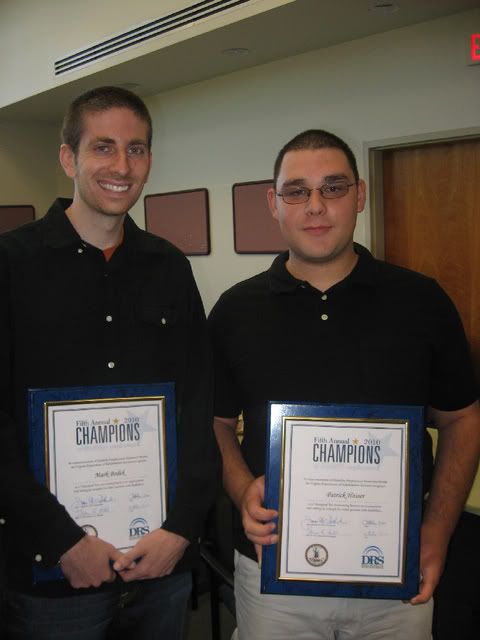 -Me & my co-worker PJ, good dude
Hope you all have a great upcoming weekend & for all of my mates taking part in the SFBOM NFL picks, good luck! If I finish in the the bottom of the pack again, then I have no choice.....I'll have to workout to a RICHARD SIMMONS video....Oh no lol :D
Mark