-Even Teddy Roosevelt is a new fan of the blog hehe :D
Hey everyone!
Welcome to the 1st post in whats going to be a very fun new blog to be a part of. I'll be sharing this blog along with my sports buddies(and sisters by blood ;) Jenn & Krista. This will be our sanctuary for all things sports and whatever else is up on our minds good and bad. On my side of things, my columns will be called the "MDB Mania". Now your wondering.....what the F does MDB mean lol- its the initals in my name(Mark David Bodek) so I figure I'll go with that
I had a good summer overall and did some fun sporting events while at it. I went to some Nationals baseball games in DC earlier in the summer before it got humid and uncomfy outside. Unfourtanately I missed all of Strasburg's games live, but sounds like he's gonna be another Mark Prior which is too bad since he was bringing alot of needed pub for the Nats. Hopefully the kid gets good surgery in the offseason and can recover from it and become an all star for the years to come
Lucky for me, since I live in the hometown where the Washington Redskins headquarters are in(Ashburn,VA)- during training camp season, Im able to drive only like a 3 mile ride over to their place. I only went once this year though since most of their practices would be early in the morning(I need my damn sleep too you know lol), but one time they had an afternoon practice on a Sunday and it was only 75 degrees, which for mid August is really comfy. I went ahead and checked out Donovan McNabb in his new uni and snaped a small vid:
I also went back up to New York City again in mid August to visit my older brother Erek, who lives out in Queens/Astoria,NY, and it was great seeing him again and catching up with him as well as enjoy the spirit of NYC. It was a fun trip and was able to go down to New Jersey a few times as well to meet up with my close friends Dawn Marie and Michele(Krista knows who they are through her friend Gail) I went down for a preseason game with the Pittsburgh Steelers(my #2 team behind the Redskins) and the NY Giants at the new Meadowlands stadium. The new stadium was pretty nice- had alot of HD screens all around the new digs and we got lucky with great seats considering how high up we were. Better then nothing right!
On Labor Day weekend- I went up the Redskins atadium to check out the Boise State/Virginia Tech college football primetime game on that Labor Day night. My friend that I went with to the game always is boasting nonstop to me about VA Tech, which made seeing them lose to Boise alot more enjoyable lol. That game was so fun and so loud too!
The NFL Season has been interesting so far and its only week 3! Even though they lost to the Texans last Sunday after having a 17 point lead, I still feel a hell lot better about my team then I did this time last year. I remember when they were 1-1 last year when beating the Rams at home- the fans booed since they looked awful in beating a bad Rams teams, and sure enough- last season was one of the most embarassing years ever to be a Redskin fan. Thankfully this year things are getting back to place with Coach Mike Shanahan and the new GM Bruce Allen to bringing respectiblity back to the burgandy and gold. How great was that opening night SNF game vs the Cowboys? OMG I was lol'ing alot when Dallas lost the way they did, and how alot of the Cowboy fans were shut up that night after talking so much smack about how their team will win the Super Bowl in Dallas....so far 0-2 and playing at Houston this Sunday......With me being a Redskins fan- I hate the Cowboys more then Jenn hates the Dolphins for beating the Bears on MNF in 1985 hehe ;) Thats how much I dislike Dallas!
I really hope they decide to do 18 game regular seasons in the future. 4 preseason games are too much and boring, I know it'll make the injuries and tolls on bodies go up- but if the NFL wants to make more money- its the thing they gotta do
I love the taste of Mug or A&W root beer........mmmmmmmmm :P
There should be a way to play awesome background music & activate slow motion after you've just completed something totally awesome
I'm thinking about a new fun idea on here where we all pick winners for the 4 key NFL games of the week, as well as a college football or a MLB game of the week, here's the games we can from for this week:
Washington Redskins at St. Louis Rams - my pick:
Redskins
New York Jets at Miami Dolphins - my pick:
Dolphins
Green Bay Packers at Chicago Bears - my pick:
Packers
(sorry lol)
Atlanta Falcons at New Orleans Saints - my pick:
Saints
For all the visitors of the new page- my 2 co-horts on here
-Jenn Sereque
-Krista Brennan
In case if anyone wonders how I started becoming close with them, I met Krista at the Wrestlers Rescue dinner in New Jersey 2 years ago and sat at the same table with her and her friends, and have been good friends with her ever since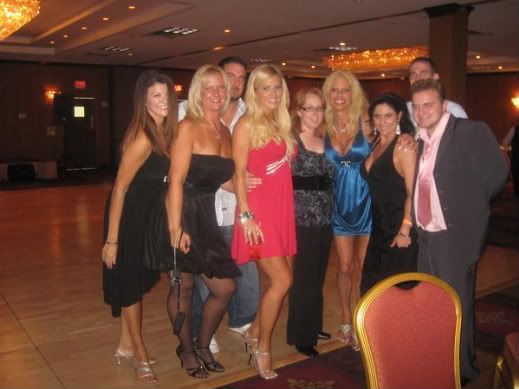 The blog title stands for 3 different teams. Skins(Washington Redskins- my team), Fins(Miami Dolphins- Krista's team), and Bears(Chicago Bears- Jenn's team). I'm 26 going on 27 soon and been a Skins fan my whole life and remember the heyday of the 80s and 90s when the Skins were the team to beat. Both Jenn & Krista are sisters who grew up with the Bears teams of the mid 80s including the Super Bowl Shuffle team of 1985
Hope you all enjoyed the first post here on our new Skins, Fins, & Bears...Oh My! blog :) Its a work in progress, but lets make this a fun and happening place!
Marky Mark